Due to our increase in papers being published as of 2020 ARC is now being produced in three issues per volume/year.
ARC IN THE NEWS
2019
Amphibian & Reptile Conservation has a significant presence in social media, with over 31,300 followers on our Facebook site and more in related affiliate sites. You can keep in touch with us online by "Liking Us" on Facebook and receiving important news, information, photographs, and notifications of newly published papers. Please join with us!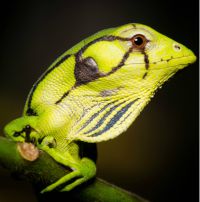 Photograph: Common Monkey Lizard (Polychrus marmoratus).
Permission kindly granted by Ryan L. Lynch/The Biodiversity Group.
2020 ISSUES (VOLUME 14)
NO. 1—GENERAL ISSUE

NO. 2—NEPAL ISSUE

NO. 3—A TRIBUTE TO JOSEPH C. MITCHELL (1948–2019)