ARC IN THE NEWS
Introductory Page.
Lampropeltis herrerae
Van Denburgh and Slevin, 1923. The Islas Todos Santos Mountain Kingsnake "is endemic to the southern island of Isla Todos Santos, BC [Baja California]" (Grismer, 2002: 281). This individual was found on Isla Todos Santos Sur, Baja California, in the municipality of Ensenada. Isla Todos Santos Sur is one of a pair of islands lying just over 19 km off the coast of Ensenada in northern Baja California. Grismer (2002: 281) indicated that this snake "appears to be restricted to the rocky interior area of Isla Sur" and that it feeds on the lizards
Sceloporus occidentalis
and
Plestiodon skiltonianus
. Some authors have considered this kingsnake as a subspecies of
Lampropeltis zonata
(e.g., Heimes 2016), but our position on the validity of subspecies (see
Materials and Methods
) supports our recognition of this snake as a distinct species, a position that is also recognized by Grismer (2002) and on the
Mesoamerican Herpetology
we site (http://www.mesoamericanherpetology.com; accessed 11 February 2023). Wilson et al. (2013a) calculated the EVS of this snake as 20, placing it in the highest vulnerability category. The IUCN does not recognize the taxonomy of this snake, and SEMARNAT considers it as Threatened (A).
Photo by Jorge H. Valdez-Villavicencio
.
Network with us!
Amphibian & Reptile Conservation has a significant presence in social media, with almost 32,000 followers on our Facebook site and more in related affiliate sites. You can keep in touch with us online by "Liking Us" on Facebook and receiving important news, information, photographs, and notifications of newly published papers. Please join with us!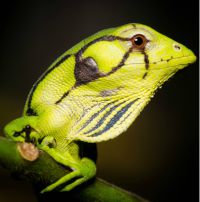 Photograph: Common Monkey Lizard (Polychrus marmoratus).
Permission kindly granted by Ryan L. Lynch/The Biodiversity Group.
2023 ISSUES (VOLUME 17)
NOS. 32 & 33; ISSUES 1-2